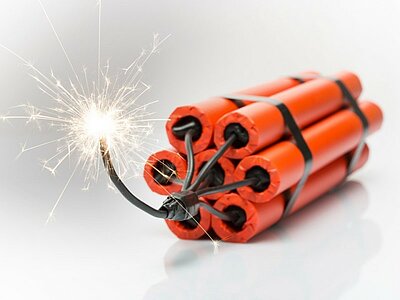 Explosives are solid or liquid explosive substances, mixtures of substances or explosive articles containing one or more explosive substances capable of producing gases in chemical reactions at such pressure and speed as to cause damage to the surroundings. Explosives are also pyrotechnic substances or mixtures of substances designed to produce heat, light, sound, gas, fog or smoke or a combination of these effects as a result of non-detonative, self-sustained and exothermic chemical reactions.
Explosives for civil use are classified into economic explosives, detonating cords and safety fuses, shock tubes, detonators including delay detonators, powder and rocket propellants.
A pyrotechnic article is any article containing explosive substances, pyrotechnic substances or an explosive mixture of substances designed to produce heat, light, sound, gas, smoke or a combination of such effects through exothermic chemical reactions. Pyrotechnic articles are categorised into fireworks, theatrical pyrotechnic articles and other pyrotechnic articles. They must not contain explosives intended for use by the armed forces or economic explosives, except for black powder and flash-producing mixtures.
It is prohibited to sell, possess or use fireworks of categories 2 and 3 in Slovenia the main effect of which is a noise.
All additional information on legislation is available on the website of the Ministry of the Interior.
EU legislation
Directives
Directive 93/15/EEC on the harmonization of the provisions relating to the placing on the market and supervision of explosives for civil uses
Directive 2007/23/EC of the European Parliament and of the Council of 23 May 2007 on the placing on the market of pyrotechnic articles
National legislation
Acts
Rules